The History of the Kelvin Tremain Memorial Education Trust
The late Kelvin Tremain

This fund was established in 1979 when the Club decided to invest $15,000 from its Project Account to mark its Silver(25) Anniversary year.

The money was invested to provide educational assistance to people found to be in need. In 1981 the deed defined the objective as providing "promotion, assistance and encouragement of the education of any person or persons within or without New Zealand, as the trustees shall see fit."

Students making direct applications to the Trustees is no longer favoured and local high schools are encouraged to identify suitable students who meet the objectives of the Trust Deed, and forward these directly to the Trust for consideration.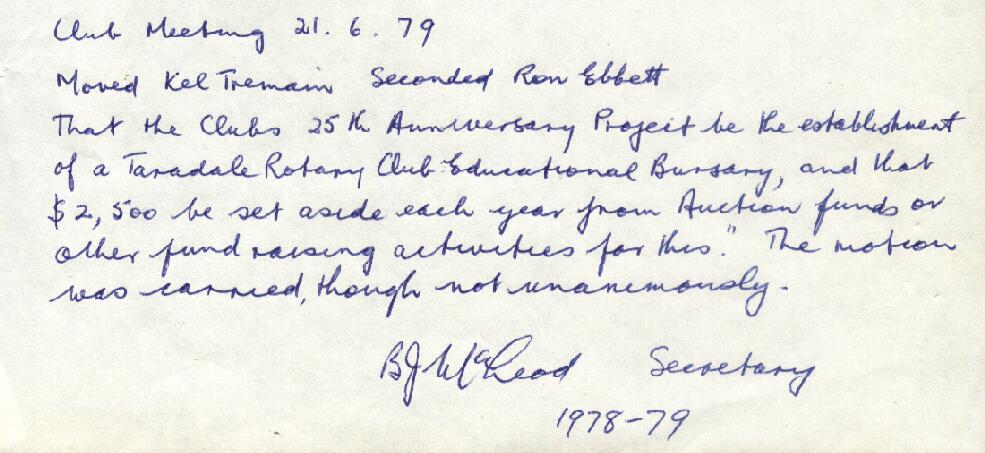 The following entry, taken during a normal club meeting by Secretary Bruce McLeod, records the motion passed (but with some opposition) by the Club on the 21st of June 1979. It followed a youth committee meeting where the issue was raised for the first time by Ron Ebbett and brought to the Club by the Youth Committee Director, Kel Tremain.
The investment of funds gave cause to considerable debate within the Club. There was a divergence between those who supported awards being made only off the earnings of the investments, as against those who felt the Club should just make a fixed sum available each year for distribution.
John Lister as a Trustee under the 1981 Trust Deed, was responsible for investing the funds, assisted by Dan Twigg. It was proposed that the Club make $1500 available for the first Awards. Prior to this, in late 1983, Kel Tremain spoke to the club about the history of the idea, whereby funds could be used to assist able young students who might not be able to pursue tertiary education because of a lack of parental support in meeting educational costs. At the same time, Tom McDonald suggested lifting total capital to $20,000 over 5 years by granting $1000 a year from Auction funds each year. The Club supported this move.
By 1984, being the Club's 25th Anniversary, $15,000 of Club past auction funds was identified as Trust capital and earnings were about $1000.
The same year, Bob McCaw, as Club Service Director, chaired a small selection committee established by President Bill Beaton, charged with the task of making the first distribution of funds from trust investments. The selection committee comprised Bob McCaw, Kel Tremain, Peter Simons, John Lister and Bruce Robb. Schools were circulated and applicants sought. Awards were made to
Sandra Ogilvy ($500) a 7th Former from Taradale High School. Sandra was planning a degree in Sociology at Massey University specialising in family problems.

Krysia Krawczyk ($1000) also a 7th Former at THS. She planned a law degree at Otago University. She was awarded a further $1000 the following year. In 2005 the Club contacted her out of interest as to what had become of the first recipient of a grant from the fund. She wrote-

I truly appreciated the grant I received from Taradale Rotary Club. At that time the grant was a hardship grant, and if I am recalling this correctly, I also received a grant in 1985.

In the seventh form I had been in a rather unusual position as I was in a flat, paying my own expenses and working before and after school. The year had been a particularly difficult one for me personally, my parents had divorced and my five siblings dispersed. So it was of great encouragement to me that I would be able to go to university at the end of the year. After a year of only just managing to keep myself in school and financially afloat, the reality of getting to university and paying tuition fees was becoming dimmer. I remember one afternoon when a friend's mother told me that I would just have to accept my position and find full time work instead of going to university. You could imagine how pleased I was when I opened the letter that same day informing me that I had been granted a scholarship by the Taradale Rotary Club. It was a great boost to me at the time, both financially and emotionally. It felt like someone had given me a pat on the back and said 'we think you can do it. We have confidence in you.'

In 1988 I graduated with a LLB from Otago University. I completed my law professionals course at Canterbury University and worked for a couple of years at Parry Field Solicitors. For the following six years I taught law full time at the Christchurch Polytechnic as part of business training and legal executive courses. In 1994 I graduated from the University of Canterbury with a masters degree in law. I have been married for fifteen years and am now at home caring for our three young children: Yanni who is nine, Frania who is six and Benek who is three.

Thank you for your support so that I could go to University. I really enjoyed studying law and I am grateful that the Taradale Rotary Club could see past my circumstances and give a young person a chance they would not have otherwise had.

Kind regards, Krysia Krawczyk.
In 1985 the Education Trust made its second awards: Krysia Krawczyk $1000, Carol King $400 (for books), Sandra Ogilvie $200 (for bike).
The Trust was re-incorporated on 6 November 1992 in memory Kelvin Tremain, an outstanding Hawke's Bay and New Zealand rugby player and administrator. From 1974 to 1992 the Trust was known as the Taradale Rotary Club Educational Trust Scholarship. Kelvin had been an instigator of this Trust with funds provided from the Club's annual auction. The first award was made in 1985. After the death of Kelvin Tremain in 1992, at the age of 54, the original Trust was changed to the Rotary Club of Taradale Kelvin Tremain Memorial Education Trust. Since then, $90,000 has been distributed to students of Hawke's Bay to help them start their tertiary education.
Jock Morris was the first Chairman of Trustees. At the end of 1993, they made four awards worth $5250, as follows (from 23 applicants- 22 THS and 1 NGHS)
Glyn Huckson, Taradale High School

Emily Look, Taradale High School

Darnielee Silver, Taradale High School

Vanessa Smith, Napier Girls High School
Two major celebrity dinners, organised by Kevyn Moore, have greatly increased to value of the Trust. Details of these events can be viewed elsewhere on this website under Projects-Charity Dinners.
The Trust Fund is administered by Trustees who are appointed annually by the President and Directors. The Trustees manage the Fund's investments, and make annual distributions to students who are pursuing higher education. The capital value of Trust funds stands at about $150,000.
---
Since 1985 (through to 2010) over $190,000 has been distributed to 230 students. The graph below shows the dramatic increase in distributed funds since 1993, the date of the first of the major Celebrity Fundraisers organised by Kevyn Moore.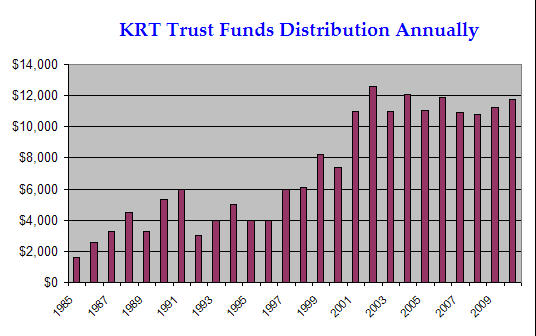 ---
Service on the Education Trust and Kel Tremain Memorial Education Trust
Until 1992 when the Educational Trust was renamed in memory of the late Kelvin Tremain, the operation of the fund was in the hands of Directors who appointed a committee annually to oversee the distribution of funds to successful applicants. The first committee, which has been detailed above, made a distribution in 1985. Records of the distributions made on this basis from 1986-91 have not been preserved, nor those who served on the committees.
Since the formation of the KTME Trust, reasonable records exist, although in the early days there is a poor record of recipients. Bob McCaw, who served on the first committee in 1985, rejoined KTMET in 1997 after returning from working overseas. In 2000 he assumed the position of Chairman, an office he held for 11 year until he resigned in 2011.
Since John Reid assumed the chairmanship of KTMET, trustees have continued to grow the capital base while at the same time meeting the trust objectives by assisting students with various grants. In the period from 1 July 2012 to 30 June 2019 the capital base has increased from $156,000 to $245,000 while $37,000 has been paid to 44 students. Since the trust's inception the value of distributions made to students has risen to $218,000 while the retained capital base has now reached $245,000.
Students making direct applications to the Trustees is no longer favoured and local high schools are being encouraged to identify suitable students who meet the objectives of the Trust Deed, and forward these directly to the Trust for consideration. Recent examples in making awards include purchasing chrome books and funding Learn to Drive programmes for disadvantaged students.
KELVIN TREMAIN MEMORIAL EDUCATION TRUST COMMITTEES 1992-2011

Starting-

Chairman

Vice President

1992

Jock Morris

Gear

Hooper

Kepka

1993

Jock Morris

Adams

Ebbett

Campbell

1994

Jock Morris

Adams

Ebbett

Campbell

1995

Jock Morris

Adams

Ebbett

Campbell

1996

Gavin Thomas

Plested

Campbell

Ward

Withers

Plested

1997

Gavin Thomas

Twaddle

McCaw

Ward

Pam Tremain

Hawkins

1998

Kevyn Moore

Twaddle

McCaw

Ward

Pam Tremain

Duncan

1999

Kevyn Moore

Twaddle

McCaw

Ward

Pam Tremain

Angus

2000

Bob McCaw

Twaddle

Plested

Beaton

Waaka

Pattullo

2001

Bob McCaw

Twaddle

Knappstein

Beaton

Thomas

McTeigue

2002

Bob McCaw

Twaddle

Knappstein

Beaton

Dyet

Tuck

2003

Bob McCaw

Twaddle

Knappstein

Beaton

Dyet

Stewart

2004

Bob McCaw

Twaddle

Knappstein

Beaton

Dyet

Aikman

2005

Bob McCaw

Twaddle

Knappstein

Beaton

Burrell

Dyet

Shoebridge

2006

Bob McCaw

Twaddle

Knappstein

Beaton

Burrell

Dyet

Allardice

2007

Bob McCaw

Twaddle

Jackson

Burrell

Dyet

Thomas*

2008

Bob McCaw

Twaddle

Jackson*

Crotty

Burrell

Dyet

McGechan

2009

Bob McCaw

Twaddle

Crotty

Burrell

Dyet

2010

Bob McCaw

Twaddle

Crotty

Burrell

Dyet

Reid

Starting July

2011

Brian

Neilson

Twaddle

Crotty/Tremain

Mark Oldershaw

2012

John Reid

Brian

Neilson

Janey Grant

Angela Tremain

Mike Wong

2013

John Reid

Janey Grant

Mike Wong

Angela Tremain

Merv Kite

2014

John Reid

Janey Grant

Mike Wong

Angela Tremain

Paul Bee

2015

John Reid

Janey Grant

Mike Wong

Angela Tremain

Caroline Ritchie

Richard Howell

2016

John Reid

Janey Grant

Mike Wong

Angela Tremain

Caroline Ritchie

Steve Winter

2017

John Reid

Janey Grant

Mike Wong

Angela Tremain

Caroline Ritchie

Keith Lines

2018

John Reid

Janey Grant

Mike Wong

Angela Tremain

Caroline Ritchie

Richard Hay

2019

To be appointed

John Reid

Janey Grant

Mike Wong

Angela Tremain

Richard Hay

Claire Connor
---

Tremain Real Estate Sponsorship

In 2010 Tremain Real Estate agreed to sponsor a scholarship for $5000, which is spread over 3 years. Five years ago, the Trustees introduced a Scholarship, so as to attract the best candidates, a very successful move. This attracted additional applicants who were also well deserving of assistance, but there was a downside in that funding the scholarship reduced the amount of money available.

By fully funding the annual scholarship, Tremains have provided the Trust with a flagship scholarship which attracts more worthy students, while at the same time releasing Trust funds to be spent on more applicants who deserve assistance in their first year of commencing tertiary studies.

The first scholar, fully funded by Tremain Real Estate, was William Duley who attended Lindisfarne. Not only is he a talented rugby player, being an age-grade representative, but a top scholar. He topped New Zealand in the NZQA Scholarship examination in Agriculture and Horticulture. This year he is attending Lincoln University.

Simon Tremain, President of Tremains Real Estate, presents the $5000 cheque for the 2010 Scholarship to Bob McCaw, Chairman of KTMET Trustees

Tremain Real Estate discontinued their sponsorship after 3 years and the Trustees decided against funding a Scholarship from their own funds. No $5000 Scholarship is now available to applicants.

Scholarship Winners 2005-2011

2005. Nicole Sharp. Taradale High School. : Sponsored by KTMET

Nicole's outstanding resume included the fact she recently sat Level 3 NCEA gaining 19 Excellence grades, and in one subject, Accounting, she was awarded Excellence for all Achievement Standards. In Level 1, she gained 165 credits placing her effort among the top 16 candidates in NZ. During her school career she achieved Grade 8 in piano (with honours), was a national finalist in the Lions Young Speechmakers competition, was second in the Planet Earth section of the School Science Fair.

She was Deputy Head-girl of the school. Her full list of distinctions at school include awards for Spanish and French (Ian Elliffe Memorial Awards- Ian was a member of the Club during the 1980's), plus distinction in Accounting, Mathematics and English. She was awarded the A. W. Miller Memorial Award for Leadership.

Nicole Sharp

---

2006. Erica Winsley. Hastings Girls' High School: Sponsored by KTMET

Erica had a brilliant academic school career and was dux in her last year. She also participated in jazz dance and enjoyed playing the piano, reaching grade 6 level. She holds bronze medallion in life-saving. In the scholarship exams of 2005, she gained an outstanding scholarship in English plus another scholarship in Biology.

She went to Otago University and graduated in Biomedical Science and invited into the Medical School where she in now in her 3rd year (2010).

Erica Winsley

---

2007. Simon Davies. Taradale High School: Sponsored by KTMET

At school Simon was Head Boy and very involved in community coaching at the Soccer Academy. He is a very good cricketer and played senior grade while still at school. He gained a one scholarship in the 2006 Level 4 NCEA scholarship examination.

Simon Davies

---

2008. Larissa Cowlrick. Napier Girls' High School: Sponsored by KTMET

Larissa was a Prefect and Sports Captain at Napier Girls' High School in 2007. While at school she excelled in sport and scholarship. In NCEA Level 3, she received 66 Excellent credits which meant her National Certificate was endorsed at the Excellent level. She followed this up by gaining a NZQA scholarship in History. Her studies were combined with a strong interest in swimming, particularly lifesaving as a member of the Aquahawks and Sundevils Swim Clubs and the Westshore Surf Club. She spent her summers working as a life guard at Westshore. She is currently studying law at Canterbury University.

Larissa Cowlrick

---

2009. Danielle Kiely. Napier GHS: Sponsored by Tremain Real Estate

Danielle was the first scholar supported by Tremain Real Estate. Her first year was paid for by the Trust, but the second and third years was paid for by Tremains.

While still at school, Danielle participated in a wide range of activities yet succeeded academically and gained two scholarships in the NCEA Level4 Scholarship examinations. She is currently studying Commerce and Administration at Victoria University and planning a career in accounting.

Danielle Kiely

---

2010. William Duley. Lindisfarne College: Sponsored by Tremain Real Estate

At school, William was a school prefect. He reached Grade 7 in Public Speaking and took part in Debating. He directed and acted on school plays. He has learnt guitar and piano and has reached Duke of Edinburgh bronze level award. In sport he was 3 years in 1st XV, being vice captain in 2009. He was selected for the HB Secondary Schools, and was a Hurricanes U18 trialist.

His NCEA was endorsed at Merit level, and gained an Outstanding Scholarship in Level 4 NCEA Agriculture & Horticulture. He was the top student in New Zealand.

William Duley

---

2011. Marc Wakeling. Napier BHS: Sponsored by Tremain Real Estate

Marc attended Napier BHS where he excelled both academically and in sport. He was a school prefect and played for the 2nd Hockey XI. In between his studies, he found time to complete the Gold Level of the Duke of Edinburgh Award, coach junior hockey, and junior student tutoring. Out of school he did voluntary work for SPCA.

His Level 3 NCEA was endorsed at Excellence gaining a perfect 24 Excellent credits in Chemistry. He gained two NCEA Scholarships in Chemistry and English. He is attending Otago University, enrolled Health Science with aim to get into Medical School and qualify as a doctor.

Marc Wakeling

---