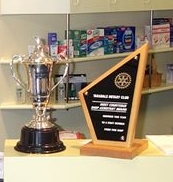 In 1972, Ian Kepka's presidency, a competition to find the most courteous shop assistant in Taradale was suggested by the Vocational committee. Approved by Directors. Prize to be $20 plus air ticket. Winner announced and presentation
This award has been presented annually since 1972. In these early days NAC ( later Air New Zealand) donated an air fare as a prize. In 1976 NAC provide a return ticket to Wellington/Auckland with the Club adding $50. By 2004 this amount has been raised to $100.
The winner is decided by a committee of three ladies and is finalised by mid-November. A trophy is presented and displayed by the winner's firm for a year.
In 2011 Directors decided to terminate the Award.
1972 Christine Clifford (Gilmore's)
1973 Adeline Long (White's)
1974 Yvonne Tierney (Hawkes' Bay Co-op)
1975 Alex Webb (McDonald's)
1976 Marlene Austin (Luck's Dairy)
1977 Helen Stok (Scott & Ricketts)
1978 Dorothy Pufflett (Peter Sugden Pharmacy)
1979 John Allan (Prebbles)
1980 Jan Potter (Pike's)
1981 Donna Danvers (Kyle Symons)
1982 No Award
1983 Sally Hollier (Jessica's)
1984 Jennifer Hay (Gloucester Fashions)
1985 Amanda Gibbs (Peter Sugden Pharmacy)
1986 Bill Longshaw (Scott & Ricketts)
1987 Glenda Clark (Lennox & Gee)
1988 Rhonda Gilbertson (Greendale Florist)
1989 Kaye Fisher (Glenn Roberts Pharmacy)
1990 Richard Turner (McDonalds)
1991 Colleen Little (Mills Shoes)
1992 Jan Turner (Lennox & Gee Pharmacy)
1993 Mark Whittington (Hallenstein's)
1994 Michelle Kingi (McCarthy's Bookshop)
1995 Lynne Reilly (Peter Sugden Pharmacy)
1996 Kelly Nicholls (Glenn Robert's Pharmacy)
1997 Janice Smith (NZ Post)
1998 David Burch (McDonald's New World)
1999 Jean Lemmon (Taradale Pet Centre)
2000 Diane Beets (National Bank)
2001 Alison Zorn (Lennox & Gee Pharmacy)
2002 Karin van Rensburg (BNZ)
2003 Jane Gardner (McDonald's New World)
2004 Rae Wildbore, (Pearson & Hooker)
2005 No Award
2006 Stephen Haughton (Glenn Roberts Pharm)
2007 Rachel O'Brien (Paper Plus)
2008 Brenda Dooney (Unichem Pharmacy)
2009 Michele Dever (Surf 2 Earth)
2010 Janice Smith (NZ Post)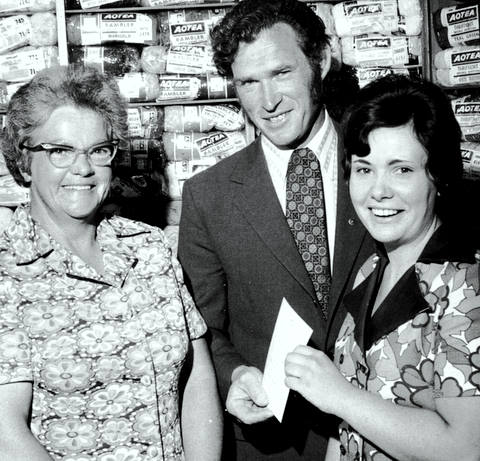 Christine Clifford,1972, the first recipient of the Most Courteous Shop Assistant Award, receives her cheque from President, Ian Kepka