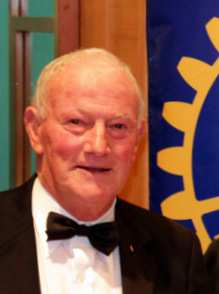 President
Keith Lines
06-835-1978
027-234-6743
President Elect
Richard Hay
Past-President
Steve Winter
Secretary
Ben Keehan
021-738-769
Treasurers
Kaye Wishart/
Doug Syme
Club Administration
John Reid
Foundation
Emre Erturk
Membership
Helena Mead
Service Project
Phil Alexander
Youth
Claire Connor
About TaradaleRotary
If you would like to know more about the Rotary Club of Taradale, and perhaps enquire about joining the Club, then please ring
Ben Keehan
Secretary
021-738-769
Project Tongan School Books
90 Cartons of Secondary Schools Books
Collected and Shipped to Tonga
In February 2018 Cyclone Gita swept through the Kingdom of Tonga leaving a trail of destruction behind. Suffering in its wake were most schools which suffered considerable water damage rendering most of their teaching material useless
Bob McCaw, a member of the Rotary Club of Taradale, an educationalist, and a man who had considerable experience of working in Tonga, suggested to the Club that rather than direct its efforts towards yet another book collection for the Solomon Islands (they had completed 3 in previous years), they offer to collect books for Tonga.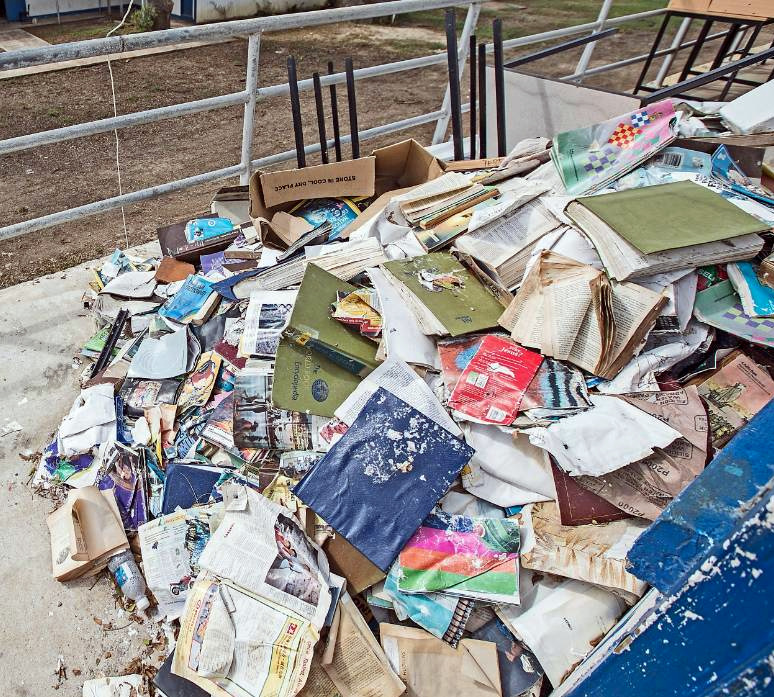 Bob used his Tongan contacts, and the Club offer was readily accepted, with the request we try to get books from High Schools, levels Year 9 to Year 13. All Club members were asked to help contact schools and about half found positive responses of help from schools, so collections started in earnest in August.
| | |
| --- | --- |
| Books from Napier GHS | Books from Napier BHS |
The major contributors were
William Colenso College
Napier Girls' High School
Napier Boys' High School
Sacred Heart College plus Wentworth School (Auckland)
Taradale High School
Hukarere Maori Girls' College
Top: Collection at Sacred Heart, Theresa Cowen, HOD Science, Steve Winter, Mark Oldershaw, Richard Hay.

Above: Robbie Symons and Paul McGrail share a joke outside Conroy's shed

Left: Robbie Symons and HOD Maths at Napier BHS, Stew Gourdie
Books, once collected, were stored in a warehouse made available by Conroy Removals in Napier. Members volunteered once a week to help sort and pack the books in cartons also provided Conroy's. Collectors were amazed at some of the top quality books being given away. This is the result of a change of teaching delivery in many schools with learning material now being delivered on-line rendering some books redundant..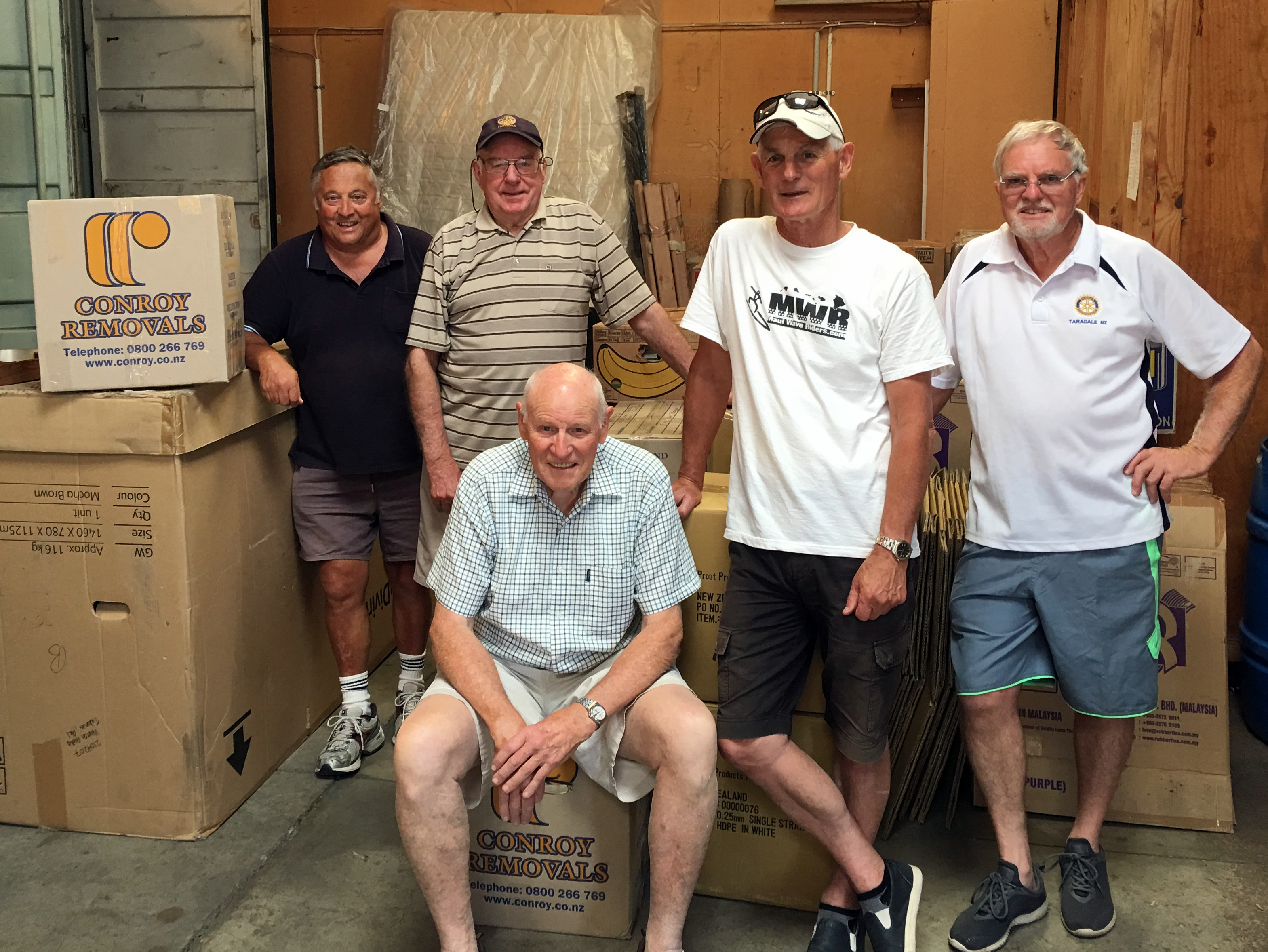 The Final Packout
Richard Hay, Bob McCaw, Robert Kyle, Mark Oldershaw, Steve Winter. Absent, Robbie Symons
At the end of November packing ceased and Conroy's wrapped three pallets containing 90 cartons and stored them in a container which was then transported to Auckland FOC where the consignment will be shipped to the Ministry of Tonga in Nuku'alofa. The Rotary Club of Taradale pay the shipping costs to Nuku'alofa in Tonga and the Ministry of Education in Tonga pay the landing charges.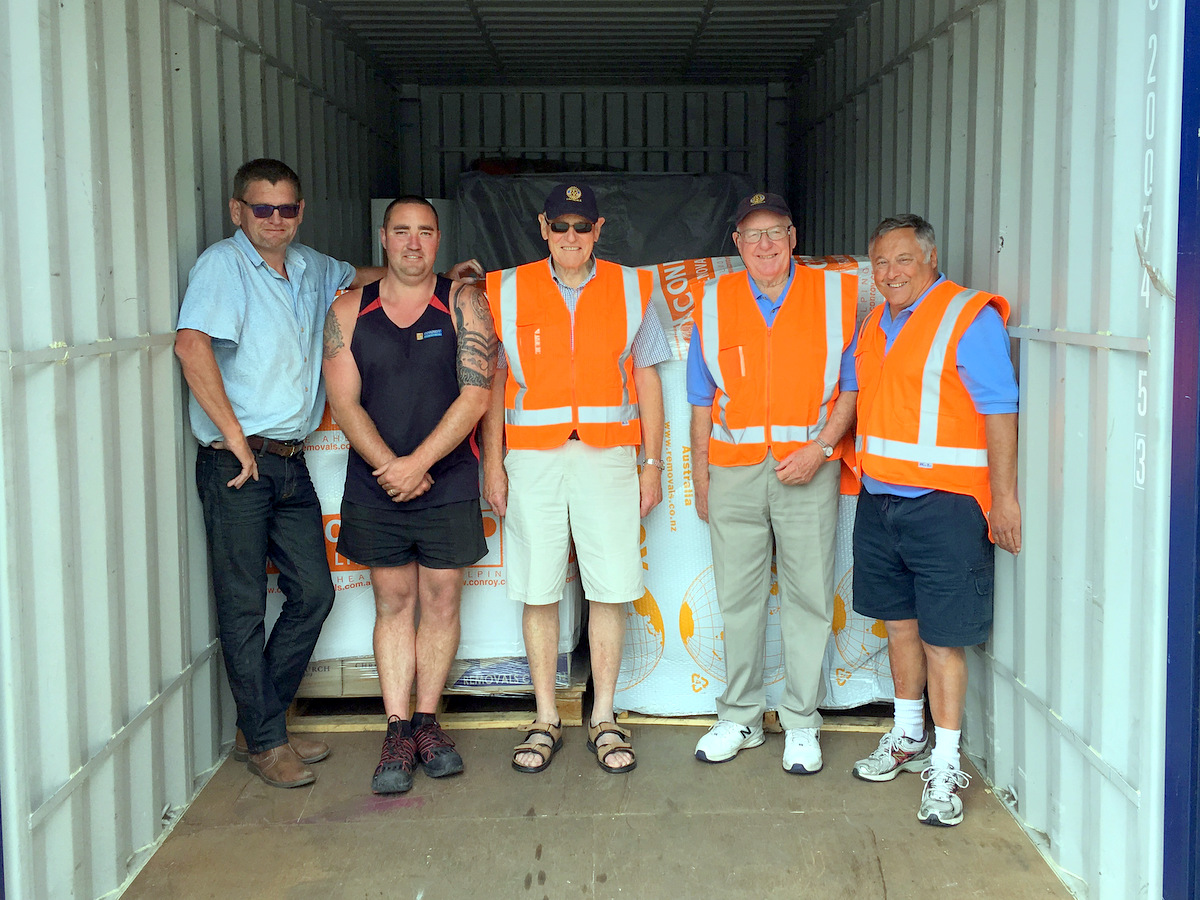 In the Container and ready to go
Paul McGrail (Conroys), Steve McKenzie (Conroys),
Robert Kyle, Bob McCaw, Richard Hay.
The books consignment departed on the vessel IMUA 11 on the 14th Dec.and arrived in Nuku'alofa on the19th Dec 2018.
This site will be updated when the MOE Tonga uplift the books from Customs early 2019
The Rotary Club of Taradale is indebted to Conroy Removals for their continued support of Club Projects. Without their generous backing, this project would have not been possible.
Read more on Club's past Books Projects
Taradale Town Hall
The Town Hall is an attractive assembly hall available for use by the local and wider Hawkes Bay community.
Puketapu Auction and Fair
The Club holds an annual Auction and Fair (PAF) on the property of Roger Alexander at Puketapu. For more information click the following link
Oliver Smales Memorial Trust
The Trust supports the education and training of therapist and nursing staff working with children and youth in Hawke's Bay in co-operation with the HBDHB. To learn about the Club's involvement in this Trust,
Dolbel Reserve
Dolbel Reserve is a passive Council Recreation Park of some 18ha on the Western Hills of Taradale.
Kelvin Tremain Memorial Education Trust.
The Kelvin Tremain Memorial Education Trust administers a fund for the benefit of students NZ wide and can partner with other similar trusts globally.
For details of how to make an application for KTMET funding, click here.