Change Over Night 22nd June 2017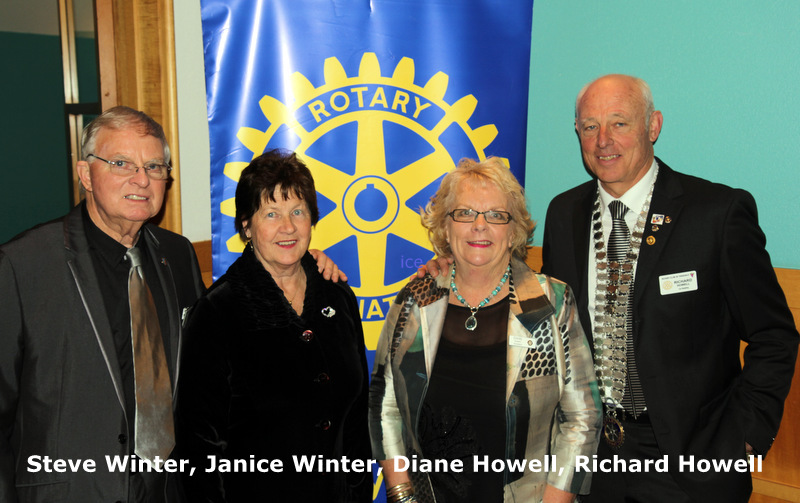 Over 80 gathered in the Town Hall to farewell Outgoing President Richard Howell and his wife Diane, and welcome to the Chains of Office, the Incoming President Steve Winter and his wife Janice.
This marked the end of a remarkable period of service to the Club in the highest office. Richard served 18 continuous months as President, taking over from President Paul Bee when Paul was unable to continue because of work commitments. Considering he was the 50th Jubilee President in 2009, Richard has now completed 30 months in the role.
Two Paul Harris Medals were awarded that night.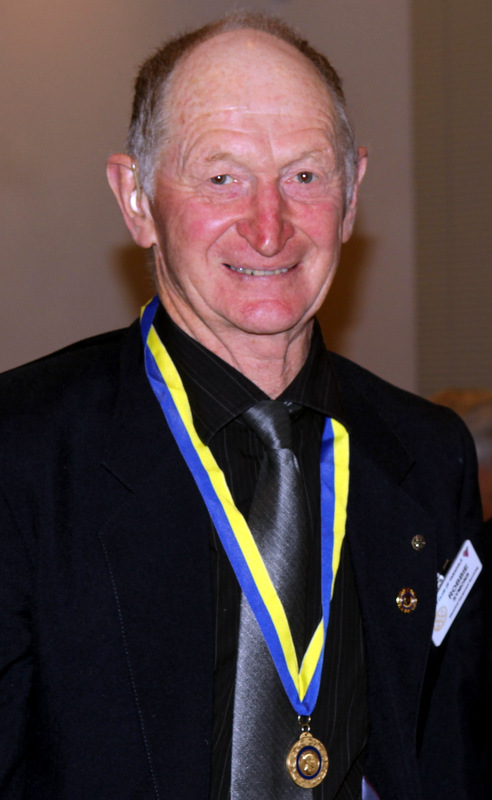 The first to Club member, Robbie Symons.
Robbie is your quintessential 'go to' man. If you want an item built, or repaired, or the electrics installed, checked, or replaced, then he is your man
The second to Diane Howell, wife of Richard, in recognition of the wonderful active support she had given Richard during that period.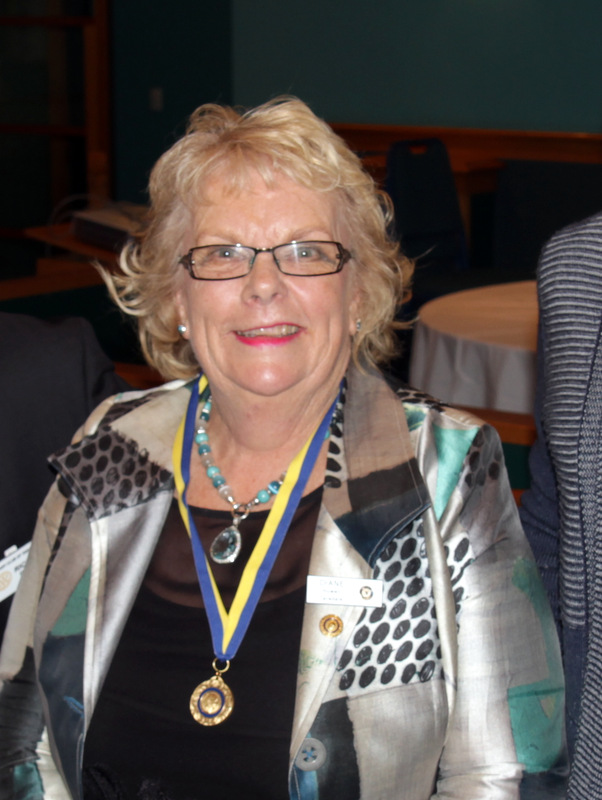 Rotary Taradale has benefitted from her skills in organizing and fastidious preparation of documents, letters and papers. She has prepared the Agendas, completed the minutes for Admin Committees, Directors Meetings and many Rotary projects over the years.
Click here to read Robbie Symons's citation
Click here to read Diane Howell's citation
---
EIT Awards Night 15th June 2017
Taradale Rotarians, partners and guests enjoyed an excellent 3 course meal on arrival, prepared and served by the EIT culinary arts students. President Richard welcomed all Rotarians and partners and celebrated the fact that these awards have been recognising excellence and achievement at EIT for 28 years. Two Awards of $1000 each were made.
Bachelor of Nursing,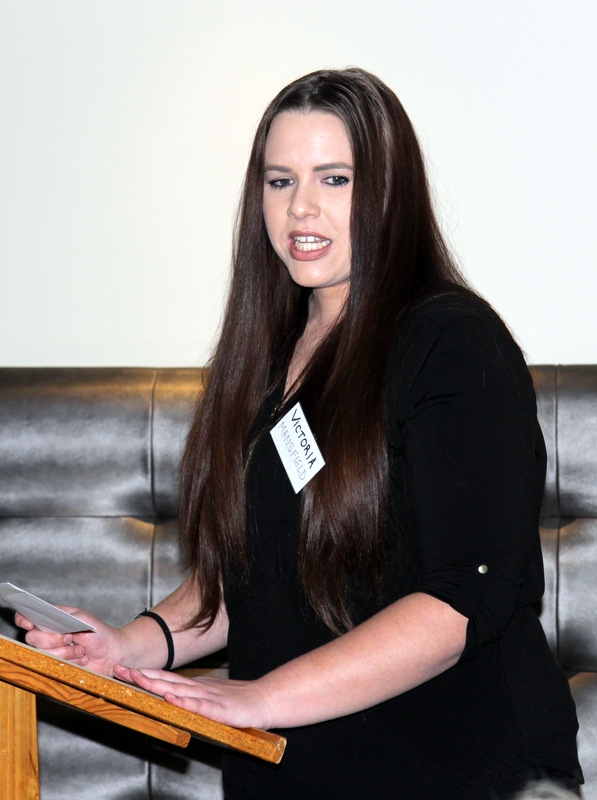 Victioria Mansfield.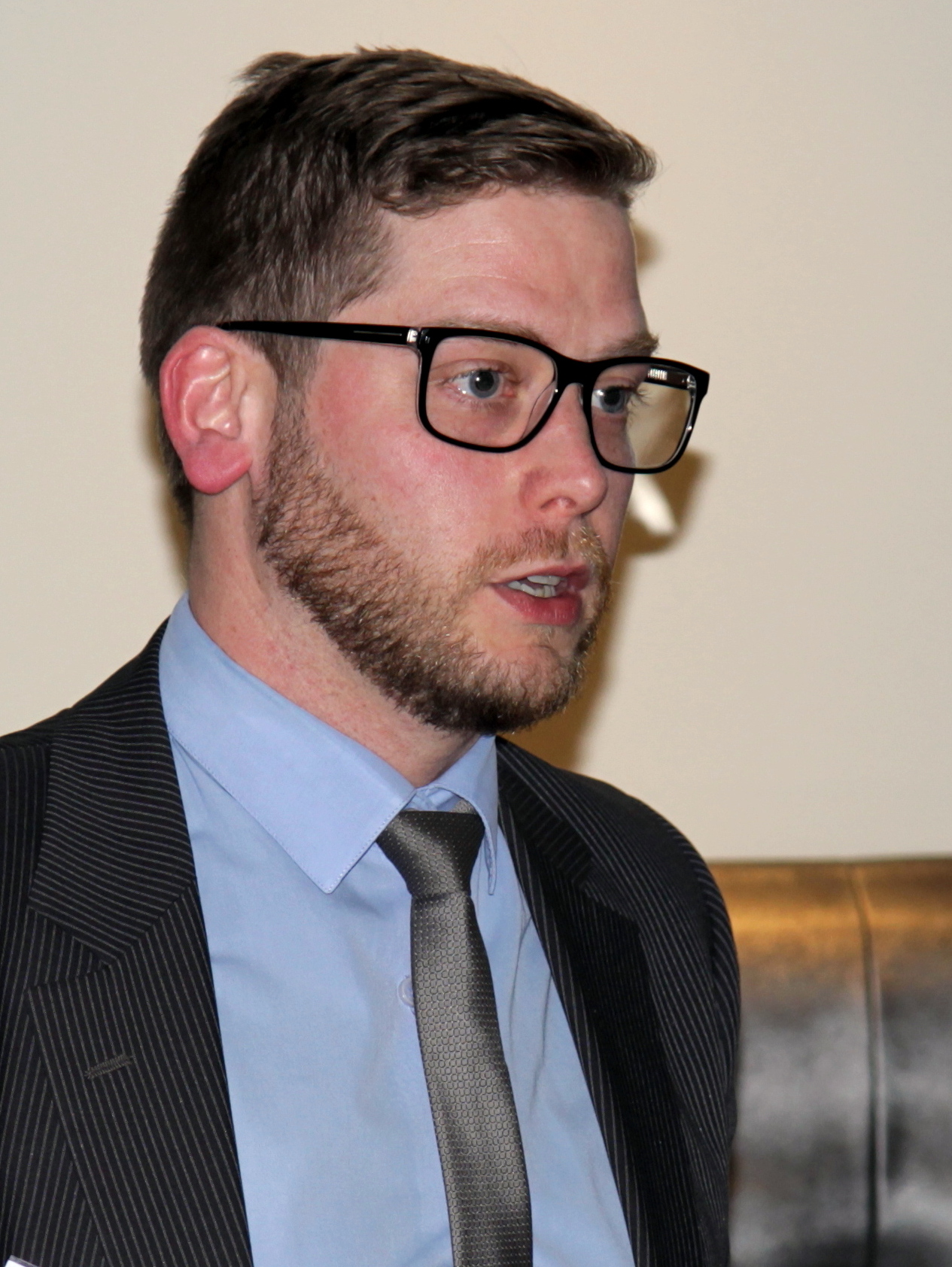 Victoria is completing a nursing degree and thanked everyone at EIT and her family for all their support.
Bachelor of Business Studies Jason Lambert who is comp-leting a Bachelor of Business Studies with a focus on the hospitality industry.
---
Puketapu Auction and Fair nd2 April 2017

The popular and very successful Puketapu Auction and Fair is on again on the Alexander Farm, Puketapu on the 2nd April starting at 10:00am. This is the first day of Standard Time.
For full information go to the full website at http://www.puketapuauctionfair.co.nz/
---
Vale Two Club stalwarts pass on.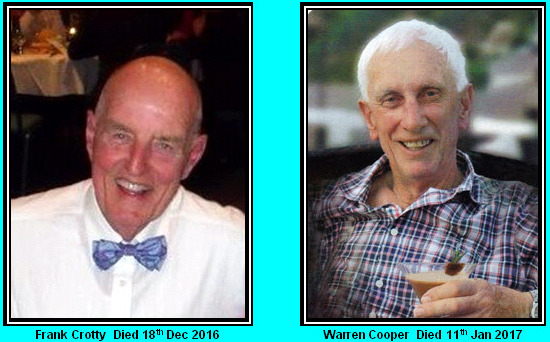 Two members of the Video History Production team who gave about 8 years of their time to this project, died in close proximity at the end of 2016. Frank Crotty died on the 18th December 2016, while Warren Cooper died on the 11th January 2017.
Together with Bob McCaw they worked to put together 10 DVD's covering over 50 years of the history of the Club. Richard Howell visited both to present them with Certificates of Appreciation for their work for VHP. Both had been awarded Paul Harris Medals. Read more about Frank at ...
---
Vale : Bob Knappstein: 1926- July 2016. Club President 1991-92
<![if !vml]>
<![endif]>Sadly we have learned of the passing of Bob Knappstein, Taradale Rotarian and Past President. The following is the citation read on the evening Bob was awarded a Paul Harris Medal.
Bob was born in 1926 in Clare South Australia where he grew up and was educated. He attended Roseworthy Agricultural College where he graduated with first class honours in Oenology (the art of winemaking.) In 1952 he married Coral, and they later had two sons, David and Jim.
For 17 years he gained experience as a winemaker, first at McLaren's Vale and later at Woodley Wines where he became a wine judge, judging shows throughout Australia. In 1964 he came to New Zealand as general manager of Penfolds and commenced the first of his 23 vintage years. In 1974, he took over from Tom McDonald as Winemaker, Director, and Product manager of McWilliams's Wines in Faraday St Napier. Read more at ...
---
2016 NZ Bragato Exchange Scholar
Ben Richards 21 years of age.<![if !vml]><![endif]>

Ben lives in Napier and is studying at EIT.

He is in his 3rd year of 4 studying combined Bachelor of Viticulture and Wine Science degrees.

His interests include cricket and football.

Ben was chosen to represent EIT at the Matariki festival held at Government House, hosted by the Governor General

Ben has an outstanding CV, and will be an excellent ambassador for Rotary, EIT, and New Zealand.

His time in Italy, early in 2017 will be centred around the College, and the University of Padua in Conegliano
---
Gil Cooper Resigns after 57 Years in Rotary 7th July 2016
<![if !vml]>
<![endif]>
A club stalwart who has had an outstanding career in Rotary, was warmly farewelled last week. Gil had been a member of Rotary for 57 years, a record equaled by few, and he achieved 100% attendance for 53 years, which may be a world record.
Gil was President in 1977-78, awarded Paul Harris Fellow in 1996, PHF Sapphire 2009, and commenced the award-winning Taradale Bulletin team in 2007 with Bob McCaw.
President Richard presented Gil with a congratulatory certificate from District Governor Keith Owens to recognise a life of outstanding service.
Gil spoke to members: I was inducted into Taradale Rotary on 26 August 1959, just 8 weeks after the club received its charter. Bill Beaton nominated me and we were "interviewed" by founding president Tom McDonald. Tom laid it on the line what I could expect of Rotary and what Rotary expected of me.. Click here to continue...
---
$3000 donated to Pediatrics Team HBDHB 7th July 2016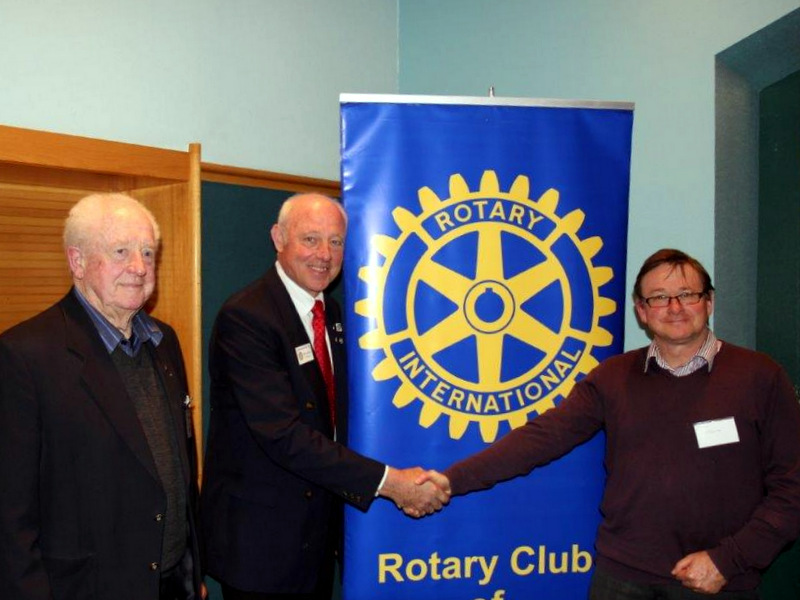 A cheque for $3000 was presented to Phillip Moore (Head Paediatrician of the HBDHB) for the purchase of a Continuous Glucose Monitor to be used in the management of diabetes in children.
This donation was brokered by the Oliver Smales Memorial Trust, a trust chaired by Kevyn Moore
Left: Kevyn Moore, Richard Howell, Phillip Moore
---
Change Over 2016-2017 23rd June 2016<![if !vml]>
<![endif]>
History in the making as outgoing President Paul Bee handed over the Chains of Office to incoming President Richard Howell. This only the second time in club history that a past president has accepted the role for a second time. The last time was in 1971 when Jock Morris agreed to return to office following the resignation of Brian McKinlay early in the new Rotary year.
---
Paul Harris Induction: Bill Hawkins 23rd June 2016
<![if !vml]>
<![endif]>On Change Over night, Bill Hawkins was rewarded for his remarkable years of service to the Club, having served on nearly all committees, and served as President in 1997-98. He was Chairman of the Charity Auction in 2000. He also has a great record of serving the community in a number of ways, more recently working on the Dolbel committee. Read more at ...
---
Paul Harris Medal Award to PP Warren Cooper 21st April 2016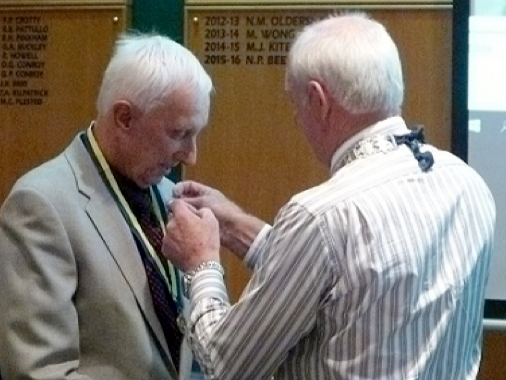 At a Club meeting Warren attended with his wife Raewyn and was greatly surprised to find he was to be inducted as a Paul Harris Fellow.Acting President RIchard Howell made the presentation.
---
Peter Sugden Retires. 12th May 2016
<![if !vml]>
<![endif]>
President Richard Howell presented Peter with a Certificate in recognition of the immense contribution he has made to Rotary over the 52 years he has been a member since joining the Club in 1964. He was President in 1981-82 and made a Paul Harris Fellow in 1988.
---
School Books Leave for the Solomon Islands Nov 2015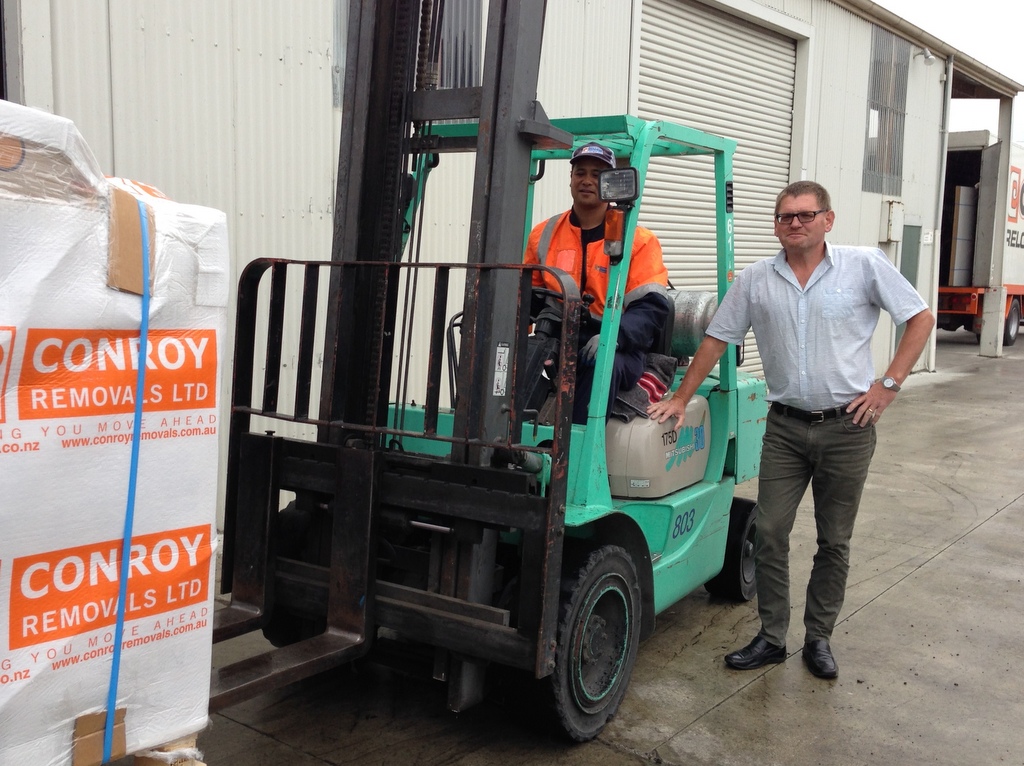 In early November, a small group of Club members completed the packing of 111 cartons of books bound for the Ministry of Education and Human Development Resources (MEHDR) in Honiara, Solomon Islands. This year the Club was fortunate to have a new member, Paul McGrail, working for Conroy Removals. Paul assumed responsibility for the final packout and palletising. This was the second consignment of primary reading books sent by the club to the Ministry of Education in the Solomon Islands.
Taradale Town Hall
The Town Hall is an attractive assembly hall available for use by the local and wider Hawkes Bay community.
Oliver Smales Memorial Trust
The Trust supports the education and training of therapist and nursing staff working with children and youth in Hawke's Bay in co-operation with the HBDHB. To learn about the Clubs involvement in setting up this Trust, Click here...
View the OSMT web page on the Hawke's Bay District Health Board web site.
Dolbel Reserve
Dolbel Reserve is a passive Council Recreation Park of some 18ha on the Western Hills of Taradale.
Kelvin Tremain Memorial Education Trust.
The Trust administers a Trust fund for the benefit of Hawke's Bay students.
Earnings from the fund are distributed once a year prior to the start of a new academic year.
Click here for application forms.
Oliver Smales Memorial Trust
The Trust supports the education and training of therapist and nursing staff working with children and youth in Hawke's Bay in co-operation with the HBDHB. To learn about the Clubs involvement in setting up this Trust, Click here...
View the OSMT web page on the Hawke's Bay District Health Board web site.