Club Dinner raises $1350 for Shelterbox

ShelterBox deploy to recent Indonesian Earthquake/Tsunami.

P

osted by Shelterbox official website

On Friday 28th September, a 7.5 magnitude earthquake and tsunami with 6m-high waves devastated the Indonesian island of Sulawesi. Over 1,200 have died, with the death toll expected to rise, and thousands of homes have been turned to rubble.

ShelterBox is sending a Response Team to Indonesia to understand how they might be able to help Sulawesi families who have lost everything.

Access to the affected area is severely restricted and the full extent of the destruction and damage to homes is not yet fully understood.

ShelterBox is in contact with the Indonesian Government, the disaster management organisations, and are in contact with Rotary in Indonesia to understand more.

This is tragically the latest in a series of earthquakes to hit Indonesia recently.

Alf Evans, ShelterBox Head of Operations explained, "is the fifth major earthquake in about a month, but this one is more sinister.

This one is a slide slip earthquake. Normally those sorts of earthquakes do not trigger tsunamis, particularly when they're on land as this one was.

What people believe has happened is that it has caused a landslide under the sea and that has caused a 10 foot (3 metre) tsunami to come into land and unfortunately near Sulawesi there's a bay that has focused that tsunami."

A ShelterBox Team are currently on the Indonesian Island of Lombok, where ShelterBox has been working for the last month helping families recover from the 6.9 magnitude earthquake which hit in August and left 20,000 people homeless.

This is the fifth major earthquake in about a month, but this one is more sinister."

Teams have just finished distributing 665 shelters to families in that area.

ShelterBox has aid stored nearby in Malaysia and they are working with their contacts to understand any importation restrictions, and how they might be able to get it in.

As well as their team in Lombok, ShelterBox is also helping families recover after super typhoon Mangkhut devastated homes in the Philippines, and in Kenya where flooding has made thousands of families homeless.

For more information, visit the ShelterBox website and follow their Twitter and Facebook pages.

The Rotary Club of Taradale Responds

On the 27th September, just one day before the tragic events that would unfold in the next 24 hours on the island of Sulawesi, Indonesia, the Rotary Club of Taradale held a special dinner to raise funds for Shelterbox. Organised by Director of Youth and Club contact on Shelterbox, Claire Connor.

The Dinner

The Club Bulletin commended Claire Connor and her team for the magnificent evening they organised as a fund-raiser for Shelter Box. The Rotary Lounge was set out with clean white table clothes, and candles as the only form of illumination on each table. Members, wives, partners and guests from other clubs were treated to a three course meal, the centre piece being very large lamb shanks.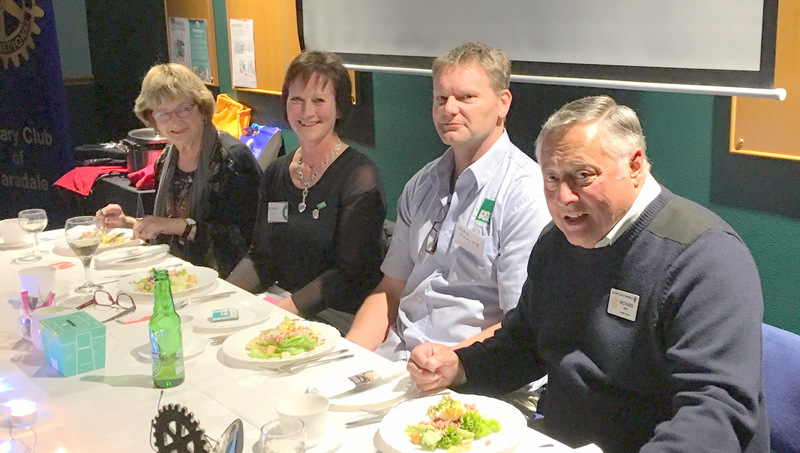 AG Ann Clark, Claire Connor, Mike Peachey (Speaker), Richard Hay (President-elect)
Guest Speaker Mike Peachey, Shelter Box Response Team Volunteer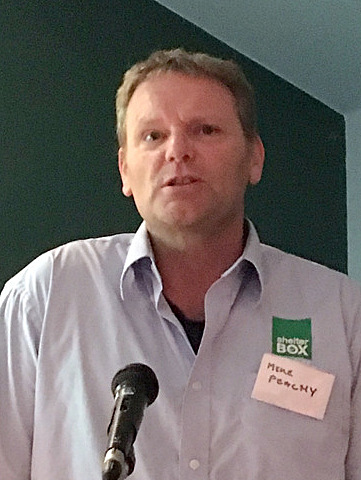 Mike is a fireman, who lives in Havelock North, offered his services to deliver Shelter Boxes in 2013 and in the first 4 years he has gone overseas 14 times! He is able to go overseas and be in the Shelter Box Response team for a maximum of three weeks because of his work as a fireman.
The organization was started by a Rotarian, Tom Henderson (left)-below, a member of the Helston-Lizard Club in Cornwall. The Club promoted the project and adopted it as their Millennium project. The project is now run as a separate business from England.
Shelter Boxes were designed in Cornwall, England and 90% of the cost is paid by Rotary around the world. Rotarians deliver the famous Green Boxes and install them which involves unpacking the contents and erecting the shelter tents to give cover to the people who need it. Each Green Box gives emergency shelter for 5 and up to 10 people.
Each shelter box contains many aids including
Family Tent

Shelter Kit

A Water Purification Kit

Thermal Blankets

Solar Lights

Children's Activity Kits
ShelterBox now works with other major aid agencies, coordinating their efforts. It is growing and becoming more innovative. The central organization is still based in the UK and has recently tripled its staff. Mike stressed the donation flexibility. While $1500 will buy a shelter box, that amount will buy 15 shelter kits.
Funds Raised from the Evening
The evening raised 1350.
A great result and a credit to the work of Claire and her team.
The history of the Club shows that members have responded to enhancing the image of Rotary Shelterboxes on a number of occasions over time. The

Read more on Club's past involvement with Shelterbox
Taradale Town Hall
The Town Hall is an attractive assembly hall available for use by the local and wider Hawkes Bay community.
Puketapu Auction and Fair
The Club holds an annual Auction and Fair (PAF) on the property of Roger Alexander at Puketapu. For more information click the following link
Oliver Smales Memorial Trust
The Trust supports the education and training of therapist and nursing staff working with children and youth in Hawke's Bay in co-operation with the HBDHB. To learn about the Club's involvement in this Trust,
Dolbel Reserve
Dolbel Reserve is a passive Council Recreation Park of some 18ha on the Western Hills of Taradale.
Kelvin Tremain Memorial Education Trust.
The Kelvin Tremain Memorial Education Trust administers a fund for the benefit of students NZ wide and can partner with other similar trusts globally.
For details of how to make an application for KTMET funding, click here.